Often conversation will turn to TV shows that people remember from their childhood. Most of my American friends watched Sesame Street, which for some reason never made it to South Africa. We got to see some of the Muppet movies in the cinemas, but I think the sanctions during the apartheid era kept Sesame Street off our TV screens.
Despite sanctions, we had quite a few American TV shows while I was growing up (British TV shows were almost non-existent though...) So, I remember watching shows like
Battlestar Galactica
,
Space: 1999, Star Trek, Buck Rogers, The A-Team, Airwolf, MacGuyver...
Often shows would be dubbed into Afrikaans, especially German shows like
Derrick -
I guess lip-synching to German was easier. In the late 80's-early 90's they started simulcasting the original English soundtrack on the radio, so you could watch the show in its original language (woohoo!)
Some of the most memorable shows from my childhood are the kids TV shows I watched from the age of 4 or 5. Some were locally-produced children's shows that nobody outside of South Africa probably ever saw, others were imported and dubbed. Here's a brief list, with some of the theme tunes
(click on the
to hear them)...
Barbapapas
(France):
This was one of my favourite shows when I was really young. The main characters are a rubbery family that look a lot like bowling pins, and I ended up getting some as toys.
Noddy
(UK)
:
Based on the Enid Blyton books. (I also read her "Famous Five" books as a kid).
Haas Das se Nuuskas
(South Africa)
:
I think I watched this around the 2nd and 3rd grade.
Here's
an article on the creator, who also created other South African childrens' TV shows, such as...
Wielie Walie
(South Africa)
:
The most insidious theme tune! The title sequence had a grinning animated monkey atop a rolling a barrel as it rolled down a jungle path. The Afrikaans show was basically a variety show with adult hosts, and puppet animals that all lived in a house together. A talking crow (Karel?) and "sea monster" (Sarel) were the main puppets - the crow would sing and play a small guitar, and the sea-monster would provide the comedy (mainly by being stupid). There was also a talking worm, Bennie Boekwurm (bookworm), who would only appear after being summoned by singing flowers. He'd then pop out of the ground, adjust his horn-rimmed specs, and read a story. A gang of talking socks in a dresser also made regular appearances. Great fun!
Liewe Heksie
(South Africa)
:
("Dear Witch") A great Afrikaans show based on the books by
Verna Vels
. The characters were all puppets filmed against a black background, and were surprisingly expressive. (Somehow they would get Liewe Heksie's mouth to dimple at the corners when she smiled). The title character is a young witch that actually doesn't know how to do magic. She somehow always managed to save the day, despite bumbling her way through each adventure.
Maya the Bee
(Japan):
I saw this dubbed into Afrikaans... I was surprised to see this was actually made in Japan - I could have sworn it was a from Germany or France. This was one of my favourite early animated shows, featuring a young female bee and her insect friends.
More info
here
.
Heidi
(Japan)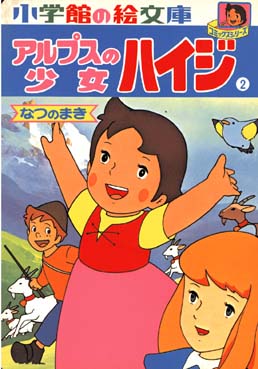 :
Again, I saw this dubbed into Afrikaans. The theme tune is in German, but the show is Japanese. Based on the books by Johanna Spyri. I had a Heidi LP as a young kid, probably my first record!
Take Hart
(UK):
This was an incredible art show for kids. Tony Hart was a great host and an inspired me to draw and paint, plus he dedicated a few minutes of each show to show a gallery of artwork submitted by his young viewers. His show also featured a claymation animation segment, with a little guy called
Morph
. Morph was created by Aardman, and Nick Park's first job for Aardman was on the Morph production line. (More
here
)
Links:
List of lots of SA shows
When local was lekker on SA TV
Early SABC TV nostlagia site